Attribution File Migration from UA to GA4
On July 1, 2023 Google Analytics 4 (GA4) will replace the current Universal Analytics (UA) analytics version.
If you are using standard UA, action must be taken by July 1 to transition to GA4 the ecommerce attribution data you provide Connexity.
Google is offering a 1-year extension for those currently with a Universal Analytics 360

(UA360) order. However, you will have to manually opt-in to this extension; It is not automatic. Check your account status to see if this applies to you.
The upgrade requires UA users to migrate existing properties by July 1, 2023. Properties not migrated before July 1 will no longer track data (properties may be automatically transferred but replicated reports will not function). So, avoid service interruption with Connexity by migrating before the deadline.
Links to Important Parts of this Article:
---
What to Know
It is critical to ensure continued daily delivery of attribution data files for ecommerce transactions from Connexity campaign clicks. These "source of truth" data provide signals needed to inform the ad placement and budget optimization that keeps your campaign delivering on performance goals and ultimately growing over time.
Be sure to check your understanding of the Connexity Attribution Data Requirements. We continue to refine the requirement to ensure the best possible performance for your campaign.
Migrate your UA Connexity data properties and delivery to GA4 before July 1 using the instructions in this article.
---
1. Migrate Existing Connexity Property to GA4
The first step is creating a parallel property in GA4 of your existing Connexity property. Google has provided a GA4 Setup Assistant to do this within the original Google UA platform.
You can use the official Google GA4 Migration Guide with video instructions and additional details.
Sign into your Google UA account

Navigate to the

Admin

tab and look for the

GA4 Setup Assistant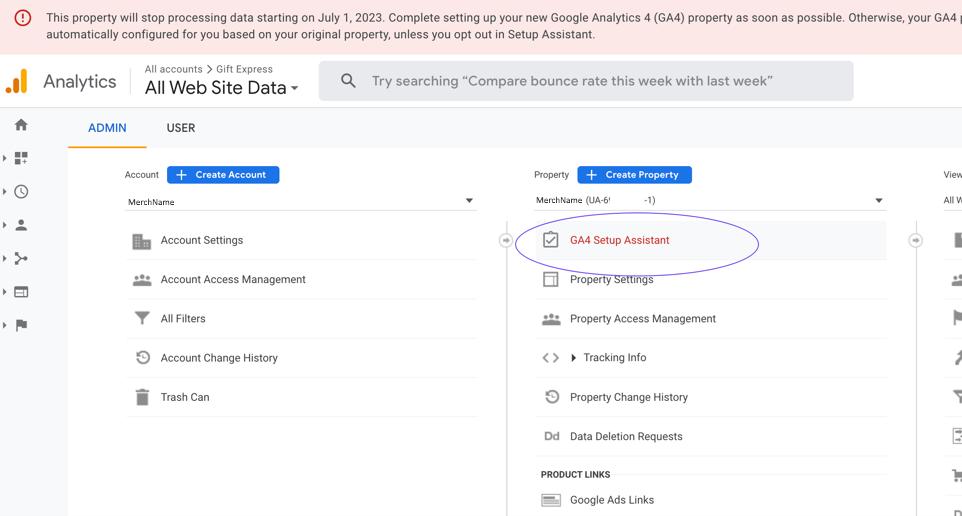 Note: Replicating the property creates a parallel property to your existing Google Universal Analytics property and does not replicate any of the existing data streams or configurations. Ecommerce events like transaction ID, revenue, product SKU, etc. will need to be set up manually in the next step after the property is created.
---
2. Set Up Ecommerce Events
After your property has been created, you will need to set up ecommerce events that Connexity uses to optimize your campaigns.
In Google Tag Manager
Go to

Tags

and select

New

Click the

Tag Configuration

and

Choose Google Analytics: GA4 Event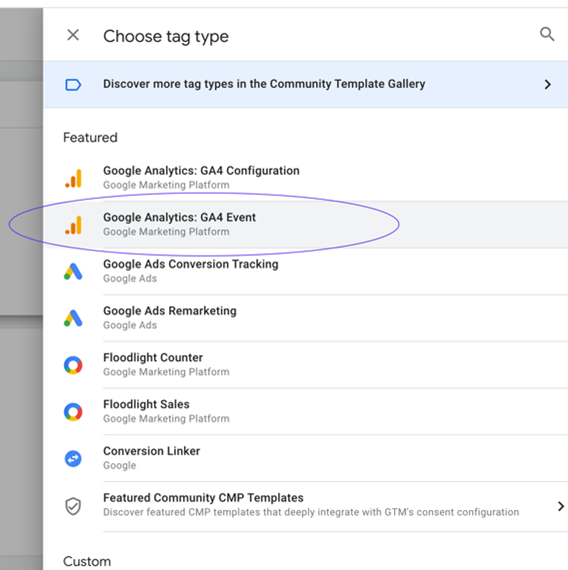 In the

Tag Configuration

select your

Google Analytics 4 Configuration tag

.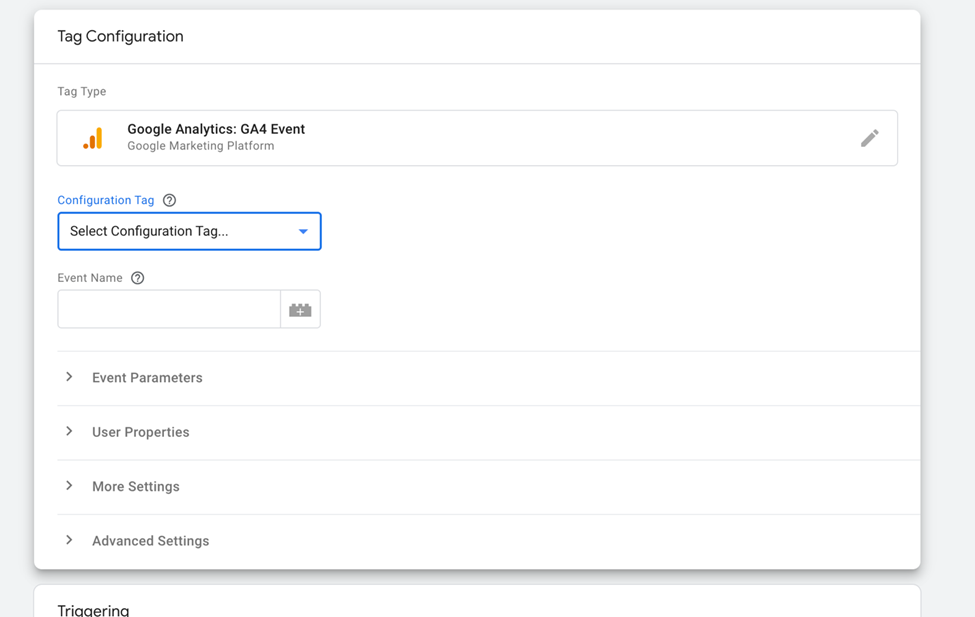 In the

Event Parameters,

add all the required Connexity events to be tracked:

Dimensions

Date

Transaction ID

Search terms

Source

Session manual term

Metrics

Purchase Revenue/Revenue/Product Revenue
Important notes:
Ensure your Connexity property setup includes

all of the required daily attribution metrics

. Check here for the full list.

Which

Revenue

metric that you select is based on your

UTM parameter (If you are using utm_term, add the metric "Revenue"; If you are using utm_content, add the metric "Product Revenue")

This is very important as each metric calculates revenue differently and will skew revenue reporting.
Follow these instructions below to complete setting up ecommerce events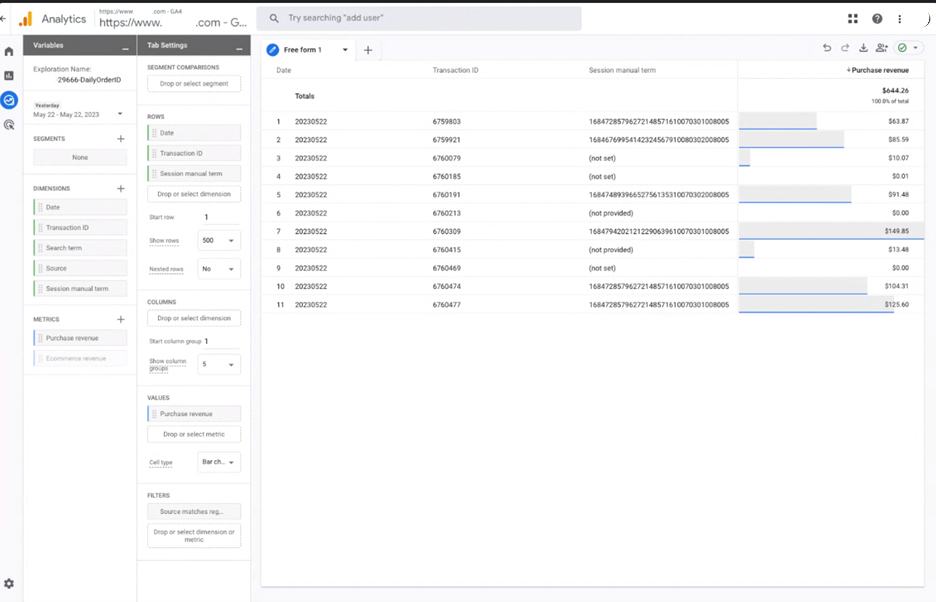 GA4 Ecommerce Event Completed Setup Example
Once all required ecommerce events are set up and linked to the respective GA4 property, then your data should start flowing into GA4 and the attribution report can be generated.
---
3. Create Report and Set Up Delivery
We will use a custom script designed for Connexity by Google that will create and deliver a daily attribution report to Connexity for processing. The script is created in a Google sheet that will execute commands to create and deliver attribution from your GA4 property to Connexity.
Note: Unlike the previous version of UA, GA4 does not yet have a streamlined method of delivering data reports directly from the platform. We will update instructions when Google is able to provide a better solution, but at this time the custom script file is the most viable solution to deliver attribution reports to Connexity.
First, access the custom Google script file template link that your Account Manager has shared with you via Google. If you have not received this file please contact your Account Manager.
Next, allow permissions for Google to access your GA4 account and data. Navigate to the GA4 Scheduled Report Menu > Authorize Permissions.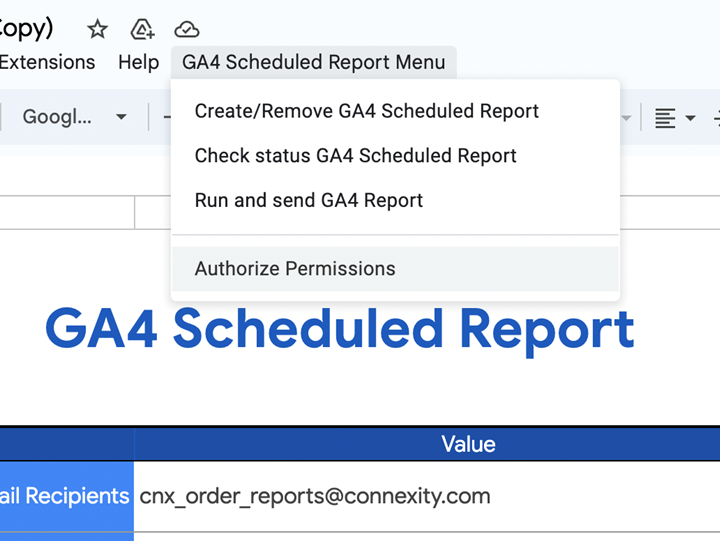 Follow the authorization prompts to give Google access to your GA4 Data. Please allow all permissions for this to work properly.
Note: It's important to understand that this script was built directly by a developer at Google for Connexity. It was designed to stringent Google standards and has been fully verified. By granting these permissions you'll give access to data that is already being utilized by Google in GA4. No other parties are gaining access to your data other than Google and potentially Connexity.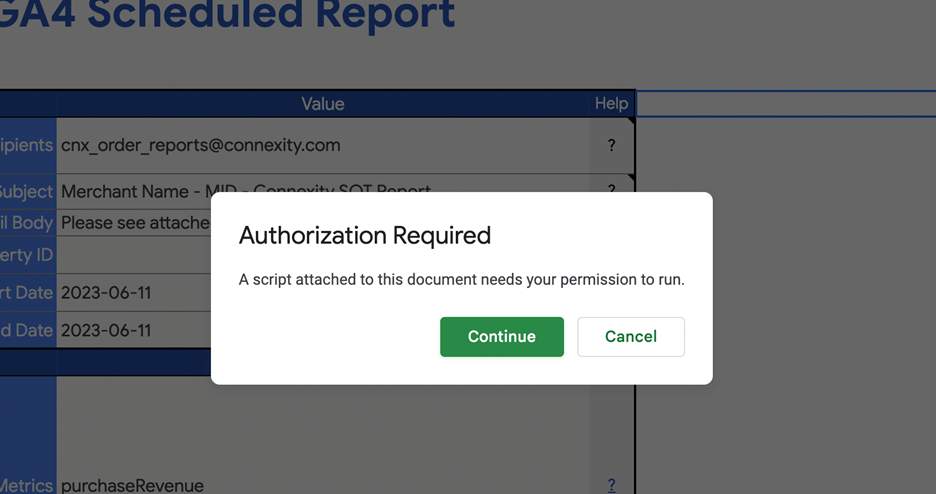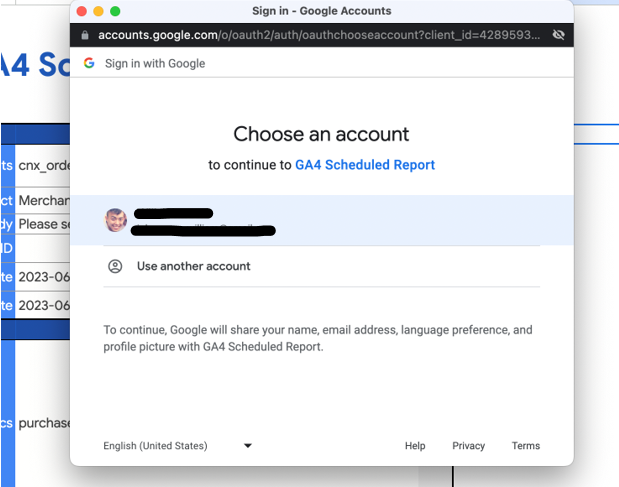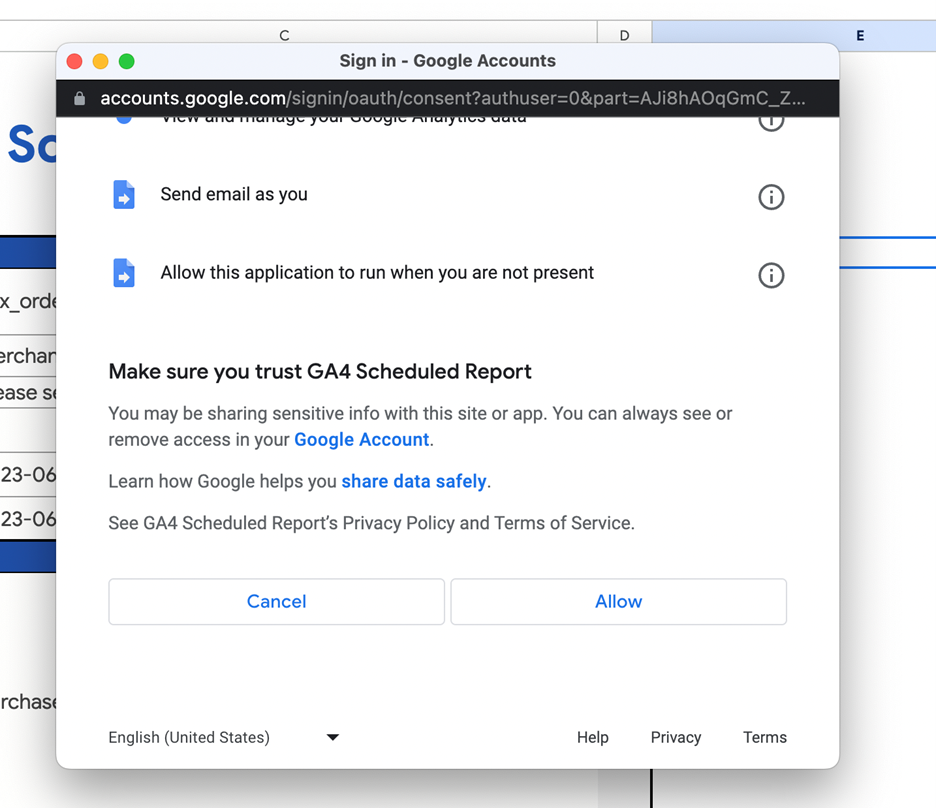 Once all permissions are authorized you will need to update your Property ID field in the file. Find your GA4 Property ID by going to your GA4 property and clicking on the Admin tab (bottom left of page.)
In the left navigation menu, click on Property Settings and look for your GA4 Property ID listed on the right side (Property ID: XXXXX)

Copy this value and paste it into the Property ID section of the file.

The final step is to schedule an automated report for daily delivery. In the document menu, click on GA4 Scheduled Report Menu > Create/Remove GA4 Scheduled Report and you're all set!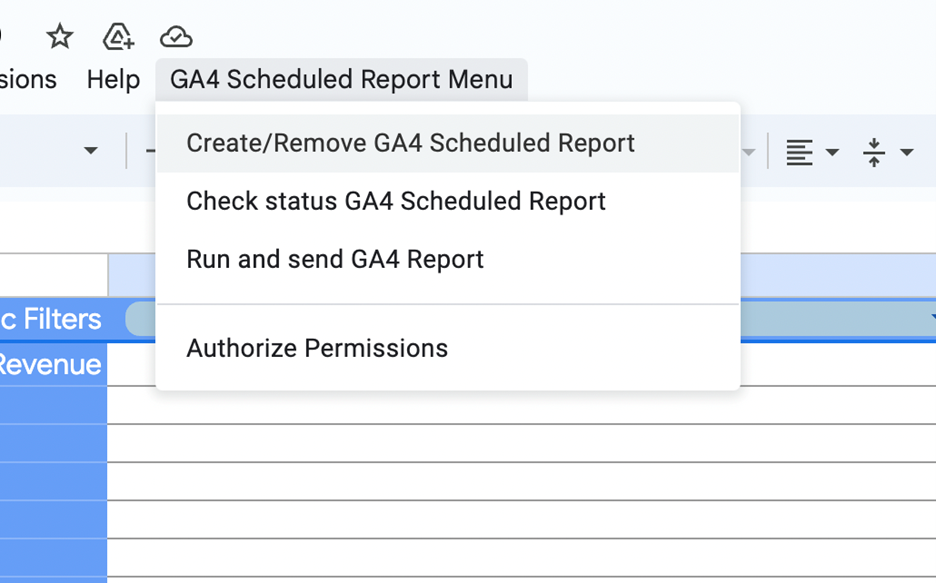 For reference, the additional menu items will perform the following actions:

Create/Remove GA4 Scheduled Report if you have already set up an automation, this will remove/cancel this automated delivery. Otherwise, this will initiate the delivery automation.
Check status GA4 Scheduled Report will check whether the report schedule is configured.
Run and send GA4 Report will send a report instantly.
Connexity has already pre-filled all the fields in this file for your account to properly track attribution, so please do not modify any other fields unless instructed by your Account Manager.
---
4. Test and Verify
Please contact your Connexity Account Manager after you create/migrate your property and set-up delivery of your attribution file. During this stage our team will verify the attribution file is valid and that the data is correctly routed into our system and into the merchant platform.
Your Account Manager may ask you to place a test order to verify the attribution tracking is working as expected from implementation in GA4.
Once you and your Account Manager have established that the attribution file data is correct and your delivery method is functioning properly, you are all set on the Connexity network. Please contact your Account Manager if you have any additional questions.